THE GROUNDHOG MAY
Since the beginning of Russia armed aggression in 2014, spring is being a traditional season of high turbulence for Ukrainian and Russian media.
Russian "holy cow" Victory day is being enforced by reference to the 2nd of May, day when Odesa abrupted spreading of the "Russian spring" towards the south. Russia gladly uses this day to simulate the so-called former glory backed with the constant narrative of "Odeskaya Hatyn" and "neo-Nazi movements" in Ukraine. Based on that, each year escalation forecasts spread over the media and launch waves of panic among the civilians. However, this time the matter would be an information attack itself.
Reasons may differ, scenario remains the same.
Each February news on "clashes at the borders" appear firstly on separatist websites and Telegram
channels, then Russian media step in with Kremlin establishment comments on possible getting to the
"proper measures" in response.
Usually it starts with accusation of Ukrainian military in breaking the
Minsk agreements: in Avdeevka (2017), Katerynivka (2018), mines Trudovskaya, Staromykhailivka,
Zaytzevo (2019), Zolote (2020).
March and April tend to amplifie tension with bringing up experts' opinions, foreign agenda and
prospects of possible Ukrainian attack: "Ukraine is preparing aviation attack"(2017), "Ukraine is
planning blitzkrieg (2018), "Ukrainian missiles are going to be targeting at Russian military command
bases" (2019), «Ukraine will provoke escalation in response to their internal problems" (2020).
In early May this wave reaches its climax and finally declines – till the next spring.
WHO WAS THE FIRST TO SPELL THE "E" WORD THIS TIME?
This year campaign chronology can be easily traced by Russian media
content.
It started on Feb, 7th as a reaction on Leonid Kravchuk's speech on the
Ukraine 24 TV Channel air. Ex-president of Ukraine called on the
readiness to return each shot no matter was it a provocation or not. This
message was replicated by Russian media and picked up by Facebook and
Telegram communities. Later on it will be constantly referenced in news
and posts on 'escalation' the following months.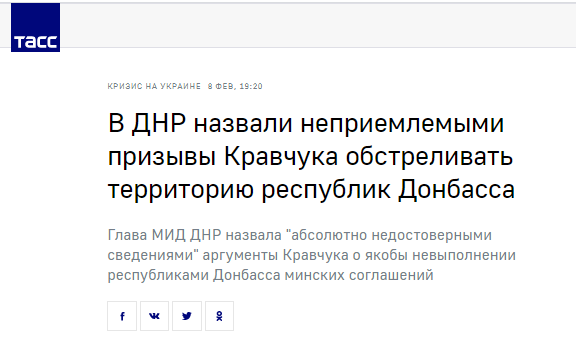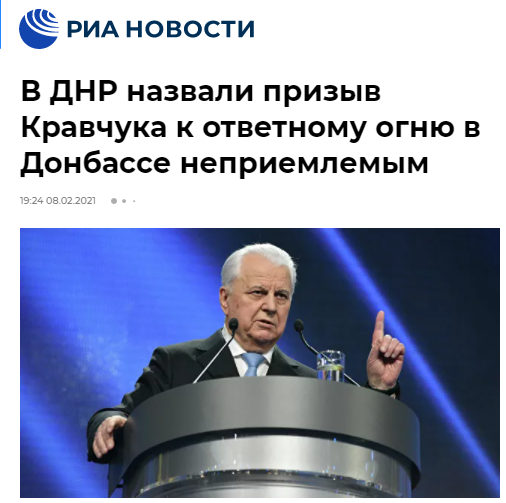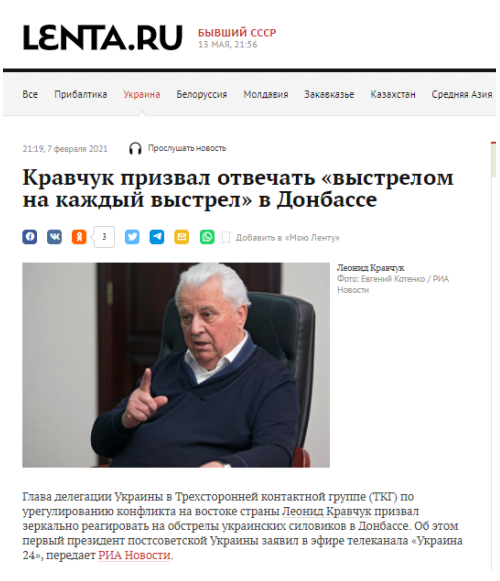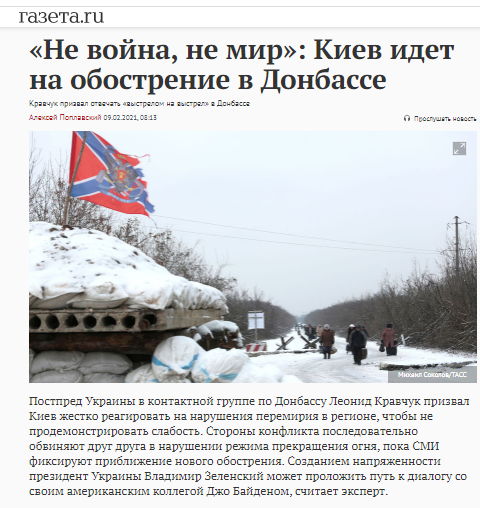 Kremlin reaction was not long in coming.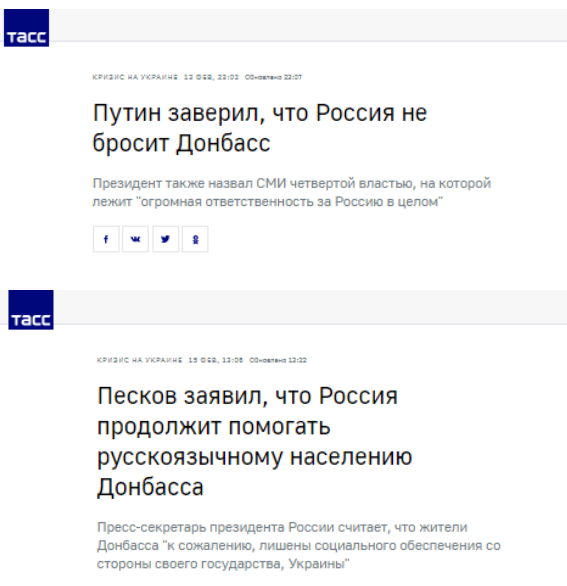 The following week Volodymyr Putin addressed this issue on the closed meeting with chief editors of Russian media. Details were published on February 14th: "We will not leave Donbass, no matter what happens" – said Putin.
His statement was followed by Dmitry Peskov's comment the next day. Press-secretary to Putin noted that Russian Federation will keep rendering assistance to Russian-speaking people of Donbass "as no one else is meant to do that". Another week later he came back to this point
while claiming his disturbance on sanctions applied to Viktor Medvedchuk. Peskov saw them as a part of "growing reactionism in Ukraine that could lead to an armed solving of Donbass conflict".
Till the end of March the main message remained the same: situation at the Donbass region is escalated
and Ukraine is to be blamed.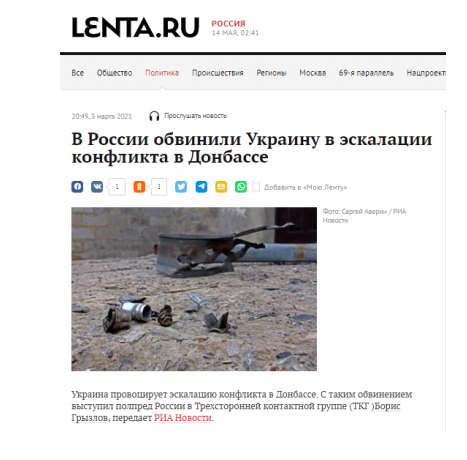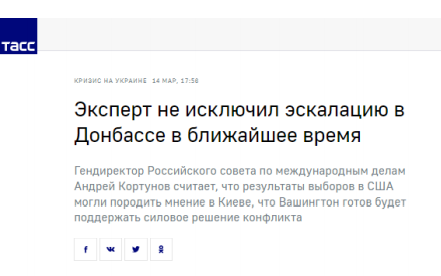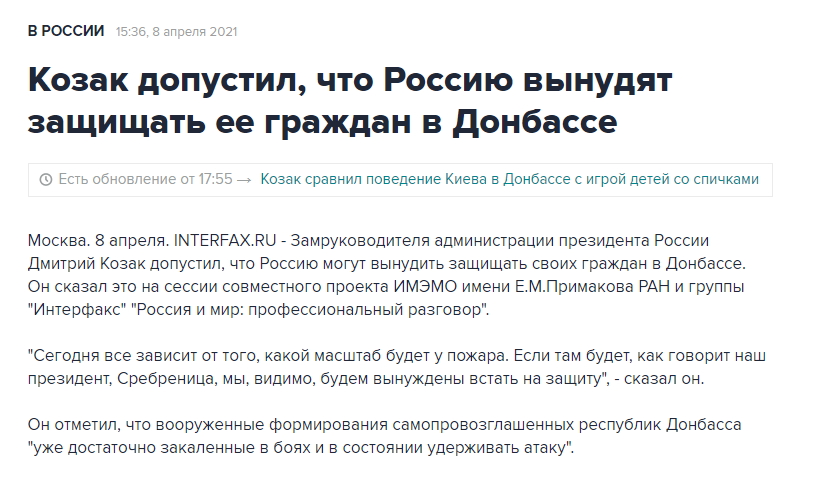 Kremlin intentions became more evident shortly. Maria Zakharova, an official representative of MFA
RF, was quite straightforward about Ukraine partnership with NATO: "hypothetical joining NATO will
lead to a large-scale escalation of situation on the southeast of Ukraine and can bring inevitable
consequences for Ukrainian statehood" said she during the briefing on the April 9th.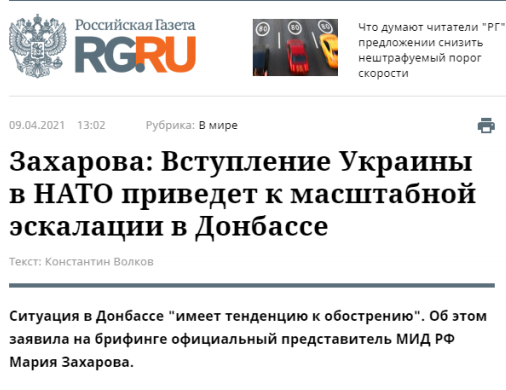 NATO issue in Ukrainian context was actively discussed in Russian media for several weeks –
messages were mainly targeting "Ukrainian illusions", "hypothetical joining" and "possible
consequences". Yury Shvytkin, Deputy Chairman of Russian Duma's Defense Committee, articulated
all in one, underlining that there is no possibility for Ukraine to become a NATO member as there is a
"conflict on Ukrainian territory".


However, as each information campaign has its life span, this one is being faded these days. Headlines
of Russian media turn back to the moderate mode, using separatist leaders' statements to retain
attention, but the climax is over.
Olexandr Lytvynenko, Head of National Institute for Strategic Studies, in his monography on the
special informational operations mentions the similarities among them. Each operation has its flow:
preliminary stage, newsbreak, promotion, fixation – all of them are briefly traced in the "escalation
case".
As mentioned before, aims and reasons could be various, however, foreign context should be
considered. Each time during international meetings Ukrainian representatives were forced to refute
Kremlin alleged accusations in provoking hostilities. In anticipation of strategic negotiations with the
Western partners that was meant to weaken Ukrainian positions.
And since the outcomes of this operation will be delivered in a while, one thing to be sure is that
February 2022 will bring regular "clashes at the borders" to the Russian media headlines again.