By Serhiy Petrov
The day was generally calm but difficult. The muscovites shelled the northeastern outskirts of the city with rocket artillery, killing six people and injuring 31. 

The morning began with three rocket strikes in different areas of the city. As a result, an apartment building, a school, and warehouses were partially destroyed, school and warehouses as well. 

Because of the attacks, transit operations on the Saltivka metro line and a number of bus, trolleybus, and tram routes in Saltivka were temporarily suspended. 

Regional and city authorities announced that the new academic year in schools and universities will begin remotely.
It was a difficult day. One massive shelling in the morning formed the picture of the entire day. And it is no longer important that the rest of the day was calm and quiet, that there were only sporadic isolated shellings of the northern suburbs. The morning artillery shelling from the "Uragan" at 10 o'clock consisted of three to four volleys, each of them with its own targets. In general, a large area is covered, from the Kyivska metro station through Tyurinka, all the way to the French Boulevard shopping center and Saltivsky settlements. The shopping center French Boulevard was seriously damaged. The facade was damaged as well as some interior spaces. There were hearths of fires on the territory. Many buildings were damaged, windows broken, facades damaged. There were fires in some places. Six people were killed, one of them a child. Also, 31 people, including two children were hospitalized with injuries. Among the dead were a father and a 17-year-old son who were traveling in a car with a certificate for admission to a university. There was practically nothing left of the car. The man who went out on the balcony of his house and a security guard in a shopping center were killed. Among the injured was an investigator who came under fire while driving to the forensic center.
And the morning, as usual, began not with coffee, but with rocket attacks on Kharkiv at 3:30 am. One rocket hit a six-story residential building in the city center, causing the entire entrance to collapse. An old woman who lived across the driveway fortunately survived and suffered minimal injuries. Twelve people who lived in another entrance were evacuated. The house is now unlivable. It is interesting that it can be demolished in this condition, but city authorities are in no hurry to talk about its dismantling because these are private persons' apartments. Meanwhile, demolition of the architectural monument on Zalopan, partially destroyed a few days ago by another missile strike, was immediately announced. This monument can be restored. Also, rockets hit one of the schools in Novi Budynky, where an Iskander had already struck two weeks ago. Now the school has been finally destroyed, as well as the warehouses on Osnov.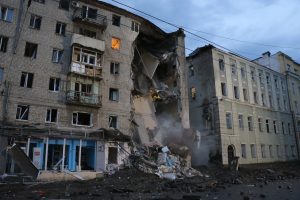 The morning of July 12 also began with rocket attacks. Two of them struck in the area of ​​Pavlove Pole. Out of the three launches seen by residents of Belgorod, one Iskander managed to land.
About air defense, a whole discussion arose in comments under one of the past chronicles about air defense that was later removed by the author of the thread. That's right. Air defense is primarily directed against enemy aircraft. This is its main function. Air defense around Kharkiv manages this function well. Not a single muscovite plane or helicopter dares to fly to the city since mid-March, because the risk of being shot down is actually 100%. Does the air defense system work? It works very well. As for the fight against missiles, this is the second part of the tasks of air defense. And here everything is more complicated. The Soviet air defense system we have is a system against missiles launched on the territory of the USSR somewhere from Western Europe, some ocean, or the territory of the USA. That would allow enough time to aim and hit, not 30 seconds it takes in Kharkiv's case, but at least a few minutes. Ballistic missiles that hit the city soar almost into space, and after that they fall vertically with supersonic speed. The time from launch to arrival is 1.5 minutes. The problem is that the trajectory is very steep, because the distance between the launch point and Kharkiv is about 100 km or less. Therefore, as experts I know say, you can shoot them down only at the start. After that there is almost no chance.
By the way, head of the Kharkiv Regional Military Administration, Oleh Synehubov, said that on Monday night, about 15 rockets were fired from the Belgorod region. Three of them flew to Kharkiv, some were shot down by our anti-aircraft defense, some could fly in the other direction. Therefore, panic that air defense does not work is uncalled for. It's just that not everything is reported openly, in order to partially misinform muscovites.
Yes, Kharkiv needs a better air defense system. But it's a system. One or two installations will not solve the problem, you need a system with dozens of such installations. If instead of "big construction" there was big defense, then a third of that money would be enough for an anti-missile system for Ukraine. But we were building roads then. Now it is not so easy to get such a device. This is a unique product. It is not like coming to a store and choosing a smartphone. This product must be ordered, manufactured, configured to operate and delivered. It will not take a month or two, but longer. People of Kharkiv, I have no good news for you: we will be bombed for a long time. And shelling from MLRS can happen at any moment, even after there is a truce or a peace treaty, because moscovia can do that. And there will be such a threat until moscovia is defragmented into 15 or 20 (or more) separate state entities. Iron Dome will not help against MLRS, a new system needs to be developed. Moreover, even the developed system must be adapted to the conditions of a specific city. It's not as simple as getting the device and plugging it in. It takes time and a lot of money, and, unfortunately, a large number of Kharkiv residents killed and wounded by muscovite shelling.
Shelling of the northern and eastern suburbs of Kharkiv, including Ruski Tyshky, Cherkaski Tyshky, Petrivka, Tsyrkuny, Pytomnyk, Novy, Dementiiyvka, Ruska Lozova, Lisny, Bezruky, Slatyne, Prudyanka, and Derhachi, continues. The ruscists also shelled the town of Zolochiv. As a result, 20 houses and farm buildings were destroyed or damaged, an elderly man and a woman were killed. The villages of Kutuzivka, Blahodatne, Peremoha, Rubizhne, Korobochkyne, and Bazaliyivka are under fire.
Fighting continues to the north and northeast of Kharkiv. During the last week, muscovites have been carrying out airstrikes in the area of ​​the front line. Muscovites also once again tried to storm Dementiyivka, of the Derhachivska Hromada, but the defense forces of Ukraine repelled this attack. At the same time, the Ukrainian military under Kharkiv operational command destroyed a platoon of ruscists' 120 mm Nona-K cannons in the village of Hoptivka, located on the border with moscovia, with strikes from American M777 Howitzers. 
Because of the morning shelling, transit operations of the Saltivska subway line were immediately suspended, so as not to endanger the lives of passengers. Also, the following ground public transportation routes were temporarily suspended: tram No. 8, bus No. 52, and trolleybuses No. 19, 20, 24, 35, 267. At 11:45 am the Saltivska subway line resumed operation.
In Kharkiv, fears were spreading that there was no air defense, that Kyiv had allegedly abandoned (surrendered) Kharkiv, and that Americans were to blame for everything. Also there are new rumors that muscovites are preparing a major offensive on Kharkiv on July 14-16. Indeed, some military forces are concentrated in the Belgorod region near the state border of Ukraine, but they are kept there for two reasons: to keep our troops under tension and to bring a reserve to a place where we are likely to create losses for the muscovites. It is also a convenient place to rapidly transfer forces to Kharkiv and Izyum by rail.
According to the Department of Education and Science of the Kharkiv Region, 210 out of 715 schools in the region were damaged, and another 17 schools were completely destroyed. There are many destructions of secondary education institutions in the occupied territories, but information about them is often delayed. At this time, the regional government is preparing to start the next academic year in remote-learning mode, since no one will risk the lives of children and teachers. Also there are very few bomb shelters and shelters equipped in accordance to all requirements in schools. A small percentage of schools can start the education process even under a favorable security situation. Ihor Terekhov, mayor of Kharkiv, also announced remote learning in Kharkiv schools. Actually, it was clear from the beginning that there would be no in-person learning. Honestly, I don't understand what people were hoping for. That the war will end quickly? Do not listen to orestovych. This stage of the multi-year war will end next year at best.
According to information from the Kharkiv Regional Military Administration, about 10,500 out of 22,500 school teachers in the Kharkiv region left home due to the war. Likewise, about 130,000 out of 260,000 students currently remain in Kharkiv Oblast. The number of school-age children in the occupied territory is difficult to calculate, but according to officials, there are about 10,000 of them. For example, 66% of educational institutions, 66% of preschool institutions, and 2/3 of medical institutions were destroyed in the Malodanyliv Hromada since the beginning of the large-scale muscovite invasion of Ukraine.
At present, students in the Kharkiv Region can obtain certificates of secondary education at the Merefyansk Medical Lyceum. Students from temporary occupied territories can obtain the certificates from Pisochynski and Valkivski lyceums. The communities under occupation are evenly distributed between them. More than 50 students have already received certificates abroad.
Nevertheless, the number of working supermarkets, shops, and pharmacies has increased in Kharkiv. According to the Kharkiv City Council, there are 228 supermarkets, 35 markets, about 250 pharmacies and service establishments, many small shops, including local retail chains (Posad: 77 facilities, Saltivsky meat processing plant: 69, Smile-market: 51).
At a meeting with a delegation of the UNESCO Secretariat, Mayor of Lviv Andrii Sadovy called for granting Kharkiv and Odesa the status of UNESCO World Heritage Cities in order to preserve cultural monuments from destruction during the war. He also noted that Lviv is ready to participate in the process of granting the status of World Heritage Cities.
The status of a world heritage site gives the city a number of advantages:

International prestige, tourism, assistance in preserving monument integrity

Constant monitoring of world heritage sites;

Financing for reconstruction and restoration of monuments in the cities included on the UNESCO world heritage list. This will be very relevant for Kharkiv after the war.

Protection of monuments from encroachment by authorities to demolish or rebuild and in this way plunder these objects of cultural heritage instead of restoring them. This is extremely relevant for Kharkiv, since the city authorities have already announced plans to demolish or rebuild several monuments of history and architecture partially destroyed due to shelling and missile strikes. Those monuments will be losing their authentic appearance, historical and cultural value.
A charity poetry evening was held in Kharkiv. During this event funds were raised to purchase 10 cars for the Armed Forces. Serhiy Zhadan, Natalka Marynchak, Dmytro Klimov, Inna Shilova, and Senin participated as well.
According to preliminary estimates, the cost of restoration of the National Literary and Memorial Museum of Hrigoriy Skovoroda in the village of Skovorodynivka, of the Zolochivska Hromada, destroyed on May 6, 2022, is about 30 million hryvnias. Currently, the plan is to develop a project for restoration of this museum, raising money from local patrons. After that it is planned to raise funds for restoration from abroad.
During another evacuation, more than 1,100 people from the temporarily occupied territories of the Kharkiv region, including 295 children, were able to cross the Pechenizka dam to the territory controlled by the Ukrainian government. This evacuation was carried out by the organization Dopomohaemo Vyihaty, which conducts evacuation preparation, as well as volunteers from the humanitarian organizations Help Me Kharkiv, Unbreakable Kharkiv, Eventroom, D20 Kharkiv, and representatives of the Red Cross. This time the evacuation went smoothly. However, volunteers point out that one of the main problems, lack of transport for quick and safe removal of people from the danger zone to Pechenihy, still remains.
In the southeast of the Kharkiv Region, fighting continues in the Slovyansk and Barvinkove directions. Muscovites are shelling frontline cities and villages: Donetsk and Andriyivka, Chepil, Barvinkove, Velika Komyshuvakha, Dibrivne, Kurulka, Mayak, and Novomykolaivka.
The Prosecutor General's Office announced the suspicion in absentia of former policeman Vyacheslav Artyukhov, 43, from Shevchenkove settlement, center of the Shevchekivska Hromada in Kharkiv region. He became a collaborator and began to cooperate with the occupiers, leading the so-called "People's militia of Shevchenkove." He also helped muscovites look for policemen who worked in the Kupyansk district police department, persuaded them to cooperate with the ruscists, and helped set up checkpoints in the occupied village.
It is interesting that in the last few days there was some explosion at one of the checkpoints in the occupied territory of the Kharkiv region, between Shevchenkove and Kupyansk. All occupants who were there went to a Kobzon concert.
In Vovchansk, the occupiers force residents to work and register according to the "laws of moscovia." Businesses are taken away from those who refuse. Ruscists also open their shops and bring goods at inflated prices. The market in Vovchansk was also rebuilt. However, there is a lack of goods in the store, and pharmacies don't have enough inventory. Therefore many people go to moscovia and bring the necessary goods from there. There is electricity in Vovchansk, but with interruptions. Same story with water supply.
At the end of May muscovites appointed Yevhen Yunakov to be a gauleiter of the occupied village Velykyi Burluk, center of the Velykoburlutska Hromada. He was a native of Velykyi Burluk, studied at the Yaroslav the Wise University of Law. Yevhen Yunakov was a lawyer for the head of the Vilkhuvatska Hromada and always supported russian world. So, on July 10, he was inside a car that exploded near the so-called "administration of Velykyi Burluk. He was seriously injured and died at the scene. It is also known that Vasyl Sorokin, head of the Vilkhuvatska Hromada, also became a collaborator and is working for the ruscists.
Muscovites shelled the Kremyanets mountain in Izium with rocket artillery on July 8, while people gathered there to catch a mobile connection and talk to their relatives. There are many dead and wounded. In the local public news feed there is information about more than 10 dead and more than 10 wounded. The occupation authorities promised to announce the names of the dead, but did not do so for several days. Also, due to communication problems, it is impossible to notify relatives of the dead and wounded. The main reason for such shelling is probably successful actions of Ukrainian artillery, which destroyed warehouses with ammunition and the command post of muscovites in the city, and also because of the active departure of people from the occupied city through the evacuation route through the Pechenizka dam. Therefore, this is revenge and intimidation for the purposes of propaganda, an attempt to blame it on the Ukrainian military. However, people saw where those rockets were flying from.
Meanwhile, many Ukrainians were very angry about an interview with American congresswoman Victoria Spartz conducted by a Ukrainian online publication and her criticism of Ukrainians. There was a lot of criticism about external signs. However, her criticism is quite appropriate. We do not have a system of control over expenditure of public resources in place. Those individual activists who are trying to rebuild it or find a solution to minimize the inefficient use of public resources are drowning in a mass of anti-development groups, for whom the fight against corruption is already a kind of missionary work and, in many ways, imitation of real activity. Some facts can be announced publicly, but others cannot. The same goes for the criticism that war does not exist for a large part of the country. Unfortunately, this is a fact. There is no war for a part (albeit a small one) of Kharkiv residents too. And the further west you go, the fewer of them there are. We do not have a war for a part of the government, those who support fiscalization. During the war, pickup trucks are desperately needed en masse, but fees were refunded here when cars were brought in from other countries. Victoria Spartz is talking about systemic problems of Ukraine and Ukrainians. This does not mean that support will stop, but the USA should pay attention to these things and control them from its side because of US taxpayers' money. Finally, during the interview Spartz talks about her fear that the possible involvement of Yermak and Tatarov with muscovite agents will facilitate the delivery of samples or secret information about American weapons to the ruscists and pro-moscow Syrians. It is not about the fact that some units will sell weapons to muscovites, but about a higher level. These are real threats and everyone must react to them correctly, both authorities and all Ukrainians. And yes, this is the biggest war in Europe (and not only) after the Second World War.
Another "pop" was heard in moscovia. Sometime around midnight, a "pop" was heard in the border area of ​​the Belgorod region, in ​​Oktyabrsky settlement, the villages Cheryemoshnoe and Nechaevka. They called it "retaliatory fire." Interesting, interesting… But the shelling may not be in response, it could be shelling of their own to increase panic in the Belgorod region. The muscovite media invented a new euphemism after the Armed Forces of Ukraine, with the help of HIMARS, destroyed an MLRS ammo warehouse in occupied Nova Kakhovka. They say that muscovites unloaded this ammunition (apparently from echelons) for three days. Now among the rascists it is called "saltpeter wearhouse". So, let's write it down: "a saltpeter explosion" destroyed a warehouse with the occupier's ammunition.
Some funny stuff: at one of the checkpoints in occupied Lysychansk, muscovites were dragging… tadamm…. T-34!!! It is not clear whether they removed it from a pedestal somewhere in the city, or whether they brought it with them. Reconstructors…
The Darwin Award goes to muscovite officers with tickets to a Kobzon concert after the HIMARS attack by Ukrainian troops on the headquarters of the occupiers in Kherson:

Chief of Staff of the 22nd Moscow Army Corps, Major General Nasbulin

Commander of the 20th Guards Motorized Rifle Division, Colonel Andrei Horobets

Deputy Commander of the 20th Guards Motorized Rifle Division, Colonel Sergey Kens

Chief of the operational staff of the 20th Guards Motorized Rifle Division, Lieutenant Colonel Koval

Chief of Artillery of the 20th Guards Motorized Rifle Division, Lt. Col. Gordeev
Let us believe in the Armed Forces of Ukraine! Let us help volunteers, doctors, and rescuers. Everything will be, Ukraine!