Starting March 10 2022 the team of Maidan Monitoring Information Center documents Russian war crimes in Kharkiv city and region. We focus on destruction of civil infrastructure by the Russian munition.
We are making photos and videos as a part of criminal investigations in cooperation with Ukrainian State institutions. Sometimes we are finding the objects, damaged by the airstrikes, accidentally and got to the crime scenes first before the firefighters and before the criminal proceedings are initiated.
The project was launched as a result of a personal experience of a Secretary of our organization Serhiy Petrov, read more – Countering Russian aggression with a camera and continued by our Chair Nataliya Zubar, read more  Ukrainian Woman Has Footage She Hopes Will Be Used In War Crime Trials
Gradually other members of our organization and partners join our team.
We regularly produce analytical reports based on the results of our work.
We do not publish the absolute majority of photos and videos we take for security reasons. But you can see some videos on our channel:
Meet our team members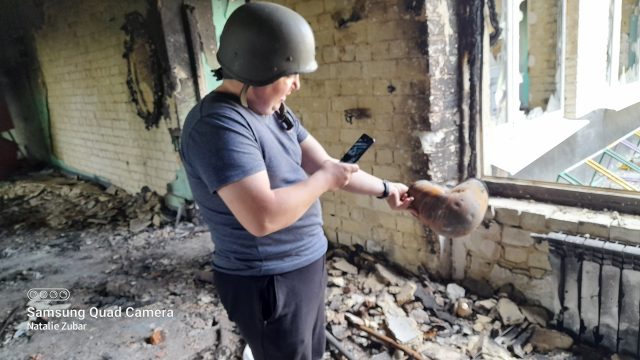 Zhenya "Snigovyk" Tytarenko photographs a shot iron helmet in the village of Vilkhivka, Kharkiv region. May 12, 2022. Photo by Nataliya Zubar.