October 6, 2019. Ukraine. «Do not withdraw Ukrainian troops from New York!» – residents of the Ukrainian frontline village Novgorodske came out with such a slogan. Occupied town Gorlivka, which is only 3000 meters away, can be seen behind the back of these people. These people are deeply frightened by the statements of the Ukrainian President Volodymyr Zelensky and the minister of foreign affairs of Ukraine Vadym Prystajko, who announced withdrawal of Ukrainian troops from the demarcation line.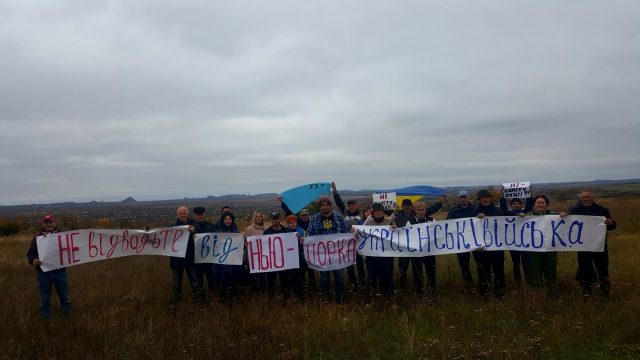 Today the Ukrainian Army protects the people in this village. If the troops are forced to withdraw from there, the village officially becomes the grey zone between the Ukrainian-controlled territory and the territory occupied by Russia. In reality, the occupation troops would be able to freely move to the village and avenge those who supported Ukraine and the Ukrainian military. The threat to the lives of many residents of the village in case of withdrawal is quite real.
Similar protests united by the slogan "No Capitulation!" took place today in the front-line towns Mariupol and Toretsk and also in Zolote village, where the withdrawal of Ukrainian troops is already announced for the next week.
Why New York? German colonists founded this village in 1892 under the name of New York. The name persevered until 1951, when the village was renamed into Novgorodske (which translates as "New Town"). 12000 people live there now. After the decommunization laws were adopted, the village community wanted to return the historical name New York, however bureaucrats of Donetsk region stalled the initiative. However, I am confident that historical name could be returned soon.Meanwhile, as the line between the civilized world and Mordor passes near the village New York, active residents of this village hope their voice will be heard by Ukrainian officials, journalists and society.
I ask everyone who cares to spread this story of the ordinary people from the frontline New York. It is very important that both Ukrainian and foreign journalists cover it. Authorities should hear the voices of frontline residents and stop the troops' withdrawal process. Moreover, Russia is not going to withdraw the occupation troops that we see on the example of the village of Stanytsya Luhanska.
Photo by Volodymyr Yelets from the group Ukrainian New York in Donetsk region