Denys Kuklin, a member of the NON-GOVERNMENTAL ORGANIZATION "Ukraine SOS" and its founder Oleksandr Shevchenko talk about social capital as an element of personal security.
This war has turned into the people's war
Denys Kuklin:  You had an experience of being inside Euromaidan, you've been a volunteer and took part in social projects. You've been in social activism for a long time. Tell us what you have learned about Ukrainians during these months since the full-scale invasion. Or, probably, what you once again have become convinced of you knew before.
Oleksandr Shevchenko:  It's a tremendous degree of self-organization and capacity for it. You know, the war has become truly people's war. This war is different from some of the conflicts in which… Well, I don't know, it's hard for me to judge some Syrian conflicts, but it's different from those conflicts where civilians don't feel like being involved. The war in Ukraine has become a people's war and involved all segments of the population, in all regions, the involvement of Ukrainians is extremely strong.
DK: At the beginning of the war, you told that you had been exhausted after the Maidan and had had tough times. During this military campaign of 2014-2015, you almost disappeared from active public life, as you said, because of the health issues. During the hot phase in 2014-2015, before the Minsk Agreements froze the conflict more or less, what were you doing back then? And how this can be related to what you're doing now?
About civilian activities in 2014-2015
OS: I spent a few years doing volunteer work, monitoring the situation in the regions.
DK: Any details?
OS: There were missions in Donbas, in the East; work with the displaced persons, analytical missions, adult education, that is, education for local activists in the border regions of Donbas and the South, in particular, in those regions that are suffering most now.
DK: In other words, you were upgrading local communities, correct?
OS: Yes.
DK: Were they trainings, courses, anything like that?
OS: Trainings, on-site visits, and courses as part of the Ukrainian Peacebuilding School.
DK: Why did you stop doing that? Why are you doing what you're doing now?
OS: There was a big project. Right now I'm doing what's relevant today.
DK: Considering the current situation, do you think all those courses and trainings for activists in the East and South back then have proved handy for them? Have you been in touch with any of the groups involved in that project?
How pre-acquired social capital has worked out
OS: I stay in contact with a lot of people, even in my current activity. This is exactly about the social capital, about the fact that those activists have increased their social capital, such as they have increased their base of contacts of like-minded people, for example. During those trainings, people from Donbas, for instance, got to know each other, made contacts, and built constant relations with people from other — the Western and Central — regions. In times of crisis they had someone to turn to: means to get out, to evacuate. It was the increase of their social capital.
Here is my personal story as another example: after the EuroMaidan, in 2014 our acquaintances from EuroMaidan in Kyiv invited us to Prykarpattia to celebrate Christmas together. They invited some activists. So, Christmas 2015 was coming. We went there and had a great time together.
Personal examples of the practical application of social capital
Now, in 2022, it was the main point of the evacuation of the whole group of families on the first day of the war. Moreover, I evacuated with a group of people I had worked with and met at the EuroMaidan in Kharkiv. We worked together also during the elections in 2015. We got to know each other better in joint activities, not just in communication, so we became friends. In other words, I already got out with the social capital. And it was more than one vehicle, there were 10+ of them. There were activists with their families. We all got in contact with each other and joined our forces. There were some experienced activists, military people, and people from ATO who laid a route for us, who were trained and ready in some way. The first and the last vehicles were equipped with radio sets. So, it was an organized escape. Some of us had fuel tanks that the group shared.
Here is another example: after the EuroMaidan forum in Kharkiv, I had contacts with a few volunteers in Kropyvnytskyi. First, we needed to spend the night in Kropyvnytskyi, it was an intermediate point of the overnight stay. Thanks to my contacts, I found a place we could stay for a night. The same was on the route to the West of Ukraine, we could call the activists from other regions to get information about a safe route. This is a bright example of how pre-acquired social capital, civil social capital, has performed.
DK: Yes, the social capital in the civil sector and your own experience, it's understandable.
How Oleksandr's social capital helped to establish "Ukraine SOS"
OS: Yes, next, the story goes on in Prykarpattia. Like most of people, I have a Facebook page with my audience. I am not a famous blogger with millions of followers. However, not only family, friends, and neighbors know me through social networks, but also journalists in Kharkiv, volunteers, and activists. It was my page where the first ads about the call center "Kharkiv SOS" we organized from scratch after our arrival in the Prykarpattia were published. This information quickly spread out beyond my page. Journalists and large groups made publications and reposts.
When we started making publications, such as bank cards numbers for donations, in the first days and weeks of the war people, without any promotion, advertising, without a Facebook page for the initiative (which we created later), started supporting our activity, transfer money to support us. I believe that this happened largely because people from certain circles recognized me and trusted me due to my, although small, social capital in the civil sector.
Who are the "UKRAINE SOS"?
DK: Who were the first people working in the "Kharkiv SOS" organization before it became NGO "Ukraine SOS"?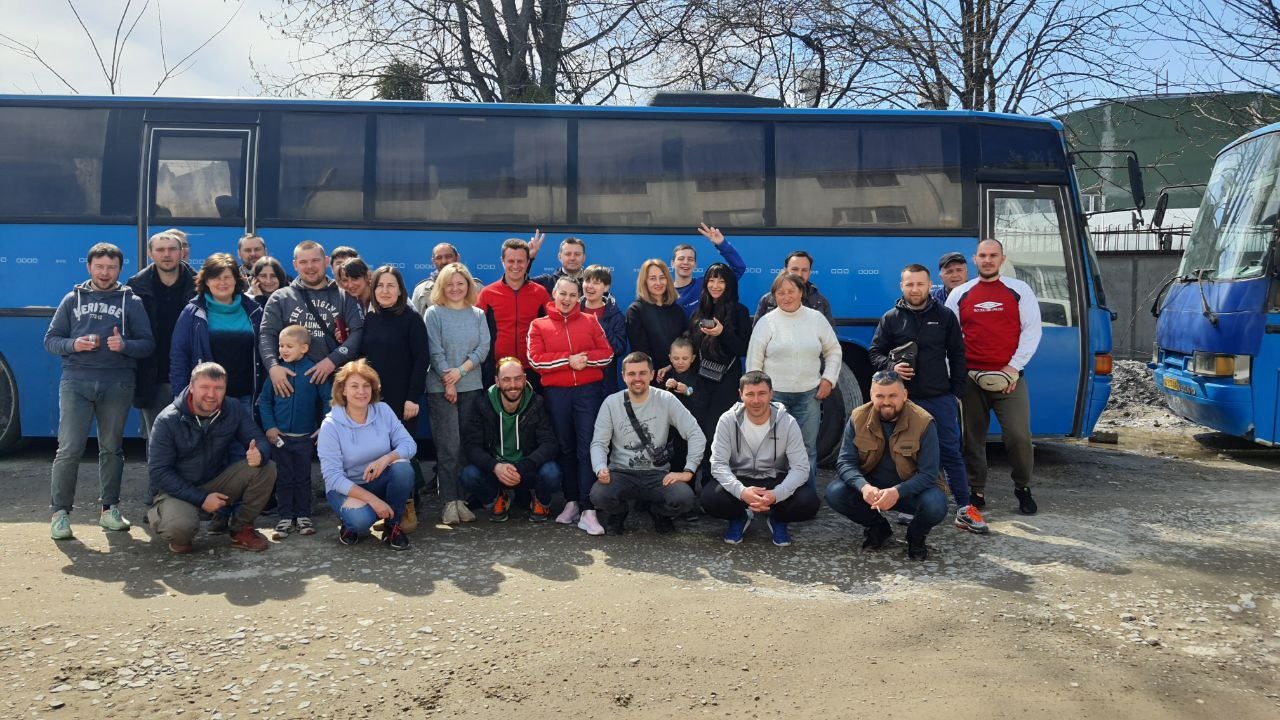 OS: They were those activist friends with whom we drove together to the Prykarpattia.
DK: Have you known each other for years?
OS:  Yes, we evacuated together and temporarily settled there together in a village kindergarten.
DK: So, now, working together with different organizations that just have arisen, with new volunteers, do you see any difference between them and experienced activists having the social capital?
OS:  Sure. This is not bad or good, but those who have never done any activist or volunteer work or don't have any business background, face more difficulties for sure. They often have to deal with new processes, such as registering NGOs, processing permits and requests, etc. From my personal history, one of my business experiences was when I worked with the Prozorro platform. There was a time when my bid for a tender could include up to 90 documents. So, I get used to such preoccupation with paperwork. And when we needed to register an organization in Lviv, it was easy for me. I have a business contact, pretty much my colleague, a lawyer with whom I started to work from 2008-2009. All I needed was just to call him, and he helped me to file documents with the Department of Justice to register the NGO "UKRAINE SOS". In other words, I had a contact to solve the problem.
I also have business contacts in the West of Ukraine. There was a contact related to carriers in the West of Ukraine. For instance, when I was arranging the evacuation for my wife and child to Poland in the first days of the war, I contacted a colleague with whom I worked in Zakarpattia. He took them out through Romania because there were huge queues at the Polish border, and there were even death cases. I spent the night at this colleague's house, and my family went across the Romanian border, they stayed the night at his other acquaintances on the Romanian side and then continued their journey to Warsaw.
If it weren't for those social ties I had acquired due to my business activities I wouldn't have anyone to turn to.
If it weren't for those social ties I had acquired due to my business activities I wouldn't have anyone to turn to. Otherwise, I would have had to turn to the volunteers at the train station who at that time could only offer tea and sandwiches, an overnight stay at the train station. I can tell that a great example of social capital relevance was when the initiative "Kharkiv SOS" moved from Prykarpattia to Lviv. Through my contacts, I turned to a man I knew and who shared with me other contacts in Lviv who, in turn, recommended other people, and eventually we got in touch with the organization which gave us the opportunity to use an office and a warehouse on favorable terms. The owner said and I quote: "Till victory!".
DK: Do you share those contacts, opportunities, and experiences with those who have less experience in the social sphere? Do you share that social capital?
OS: Yes, of course, I do share with people doing something useful, it's not just for officially registered organizations.
DK: Give some examples of how you share.
OS: First of all, I help volunteers I know, and NGOs involved in humanitarian aid; we share our warehouses with them. We share the information about volunteers providing humanitarian transfer services and whom we know, and thanks to an extensive network of contacts, not just mine but all of the organization's volunteers, we know many. We trust each other, so we share transportation costs. From my business experience, I've done certain humanitarian requests for appliances, and involved my contacts of suppliers. Together, we provided the equipment for free. We did this for units of the territorial defense battalions, State Emergency Service of Ukraine.
DK: Let's talk about the volunteers who transport vehicles, look for them, buy and bring them to Ukraine. Is it more effective when all the operations are made and controlled by one organization or is it better when different organizations cooperate?
It is absolutely impossible to provide all the operations by one organization.
OS: It is absolutely impossible to provide all the operations by one organization. If you think about it, it doesn't work that way, the cooperation brings more effectiveness.
DK: Tell us more.
OS:  If we talk about regular occupation, it turns out to be impossible to provide a complete cycle, for example, to find drivers from Europe directly to Donbas, when you rely only on your own.
DK: Well, that's what Prytula does.
OS: In truth, I don't think so. His foundation involves other organizations and teams anyway.
DK:  Why can't you create a complete cycle within one organization? I mean, it would give total control and you don't have to delegate anything to third parties and expect them to justify their trust. It looks much easier.
OS:  The tasks can be too varied. Let's imagine, for example, that some assumed Prytula owns a vehicle-buying department in Germany, and there are drivers for all occasions. But what if a vehicle breaks down somewhere near Krakow? He wouldn't want to have his own service station, would he? He would ask for help somewhere else using his social contacts who will advise him of a trustworthy service station in Krakow. In other words, it's just impossible to have people on the team for all potential situations.
DK: And what about social contacts abroad? Where did you get them and how do you exploit them?
Where did you get social contacts abroad?
OS: I would also divide my social contacts abroad into public and personal ones. I acquired my public contacts also during Euromaidan and through the activities of the "Maidan Monitoring Information Center." This relates more to Poland. Thanks to the joint activities with Zbigniew Bujak, a veteran of "Solidarity" and a member of the Maidan Monitoring Information Center, through his references in Poland we have contacts with Polish organizations that deal with humanitarian aid for civilians and the military in Ukraine. Without mutual trust and his references, I would never have had such social contacts in Poland. Moreover, I would not even have known with whom to build bridges in Poland.
I can give you this example from my personal business contacts abroad. There is an old friend of mine who is a citizen of the U.S. but he used to live in Ukraine. We met through work. He left Ukraine before the war, and now he is helping me personally and promoting my volunteer work abroad among business people. He encourages businessmen he knows to invest in charitable projects in Ukraine or just help us with money.
DK: So you have certain "entry points" abroad? And are you looking for other contacts using these points?
OS:  Yes.
Why would they help Ukraine?
DK:  Why would they help Ukraine? Why would the Poles, the Americans do that?
OS:  Those people are primarily engaged with Ukraine, they root for our victory and independence.
DK: When you were building relations with them, did you think about the fact that they love Ukraine, so we should make friends with them?
OS: We had common interests, I did not think that "they love Ukraine, so I need to make friends with them." Everything starts with a common interest which is why we became colleagues and began to cooperate.
What is social capital? How do you understand it?
DK: Ok, what is social capital? How do you understand it?
OS: Financial capital is measured in terms of money. It's simple arithmetics — sometimes bigger, sometimes smaller. Social capital represents the number of connections in different areas of life. The more connections you have, the bigger your social capital is and the higher quality it is.
DK: Does social capital mean connections with other people and new acquaintances?
OS: Acquaintances, cooperation, common interests, parties, anything.
DK: Can you share more examples of some acquaintanceships when you didn't expect they would ever be useful? Such as, when you met someone in a bar and then this person became helpful.
OS: This friend of mine I've mentioned before, who is a U.S. citizen. He's helping me and my team now as a volunteer. We met when he came into my store to buy a TV. Back then, my English was not so good, but I managed somehow to communicate with him. We started talking and became friends.
DK: There were times when it was very useful to have a friend who was a head doctor or a school headmaster. What about now, who is useful to know today? Who should a volunteer know or have as a friend?
OS: It refers to all areas of life now. One should develop their social capital in all directions, if I may say so. Later on, it allows you to find the person you need in 2 or 3 handshakes. From a cleaner to the president.
DK: What features does a person need to have to build such social capital? You've mentioned languages. But what else?
OS: The cooperation ability. It gives you relevant experience, and that's very important under any circumstances. When specific situations arise: the transfer of material goods, the negotiation, and a request for help. If I have cooperated with someone, I already know what to expect from that person and what I can count on.