By Serhiy Petrov
It's been four weeks since the start of the large-scale Muscovite invasion of Ukraine. And for four weeks Kharkiv has been defending itself, fighting, and hanging on. The city that the Western military didn't think could last for more than a few hours has kept up defending itself for four weeks! And it will hang on and defend itself further. The Muscovites aren't strong enough to take it!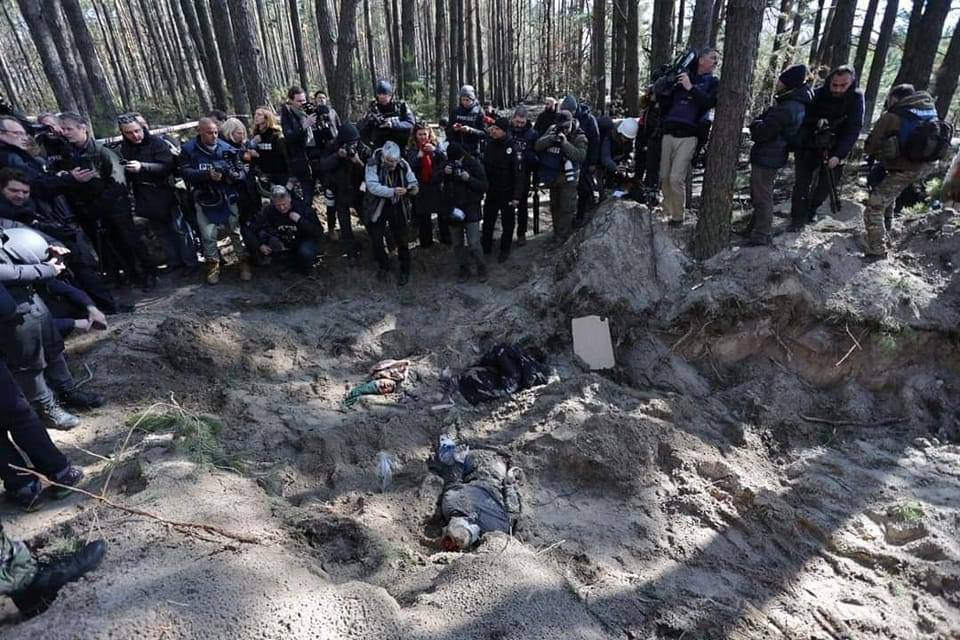 Today's was fairly quiet, relatively speaking. That is to say there was less Muscovite shelling than there was yesterday. It was one of the calm days (of which there were few in the last two weeks) since the intensity of the shelling decreased. This wasn't the case everywhere in the city, because, for example, the night and the morning in North Saltivka and the rest of Saltivka were quite "fun." We know that residential buildings and educational institutions have been damaged. There was some shelling in other areas that are constantly under fire: Rohan, the Kharkiv Tractor Plant neighborhood, Oleksiyivka, and a little bit in Derhachi.
The afternoon was practically quiet. Shelling intensified only in the evening but not by much. Around 8 pm, however, an air defense system shot down a cruise missile flying over Kharkiv. Around 10 pm, a powerful explosion could be heard in the center and various other parts of the city. We are waiting for official information.
Also, during documentation of the destruction in Kharkiv it was revealed that the Muscovites fired on and destroyed the memorial to Polish officers who were executed in Kharkiv and the Memorial to the victims of totalitarianism in Piatykhatky. There are broken memorial plaques with names, burned stelae, and unexploded shells, some of which flew straight into the grave.
This is another war crime and case of vandalism. Muscovites are killing Poles and Ukrainians whom they have already killed for the second time!
The city is slowly recovering from its anabiosis. There are many more cars on the streets, and fuel is becoming available at many more gas stations. Crossing some of the intersections with two busy streams has become another quest, as many people have gotten used to driving fast and ignoring traffic rules. Of course, traffic remains far from what it was before the war, but the roads are not as empty as they were a week and a half ago.
The selection of goods in supermarkets in the areas that haven't been shelled is widening. Some of them have even opened their deli departments! Many more small shops and pharmacies are opening, and there is some activity in open-air markets that haven't been affected by shelling. But all this is true mostly in areas that aren't under the fire or where the intensity of shelling has decreased significantly.
The biggest problems are in Saltivka, Obriy, and a part of the Kharkiv Tractor Plant neighborhood, swaths of which are without either heating, power, or both; where cold water runs on a schedule; and where there's a single minimally stocked supermarket with long queues serves per each large neighborhood.
According to the City Council, more than 1,170 buildings have been damaged as a result of shelling, air, and missile strikes on Kharkiv, almost 1,000 of which were residential (both high rise apartment buildings and single-family homes). Out of all damaged buildings more than 50 were completely destroyed. The debris from damaged and destroyed buildings is being cleared out not only by the State of Emergency Services officers (their capacity is limited) but also by volunteers. There are many such locations in the city. The wreckage in the Kharkiv Region State Administration building is still being cleared out. The body of volunteer Valeria Yutina, the 24th victim of the rocket attack that took place on March 1, 2022, was found today.
Despite all this mess, the public utility personnel are cleaning up the city and taking out the garbage. This is especially noticeable in the city center. Today I saw a street sweeper washing away winter dirt from one of the city's central streets. Seeing these scenes during wartime is real surrealism.
They also protect historical monuments and monumental art with sandbags. One example is the Taras Shevchenko monument, which was not touched by the Nazis during World War II.
The Anything for Victory tent, which was damaged on March 1, 2022, is being actively repaired. [Translator's note: this is a volunteer tent that was set up in 2014 to collect donations for the Ukrainian army]. If you can help with repairs, especially financially, then contact Borys Redin. Assistance for both tent repairs and volunteer needs is very much needed.
Meanwhile, the turtles and monkeys were rescued from Ecopark (the zoo). This isn't the only cute story. When extinguishing one of the fires, the firefighters rescued a rabbit who was abandoned by its owners. He is now the fire department's well-loved pet. Love for animals sets us apart from the Muscovites, who kill them.
In Lozova, four of the 10 wounded in yesterday's missile strike are in serious condition. A significant number of single family homes have been damaged there, and about 20 of them have been completely destroyed or cannot be repaired due to serious damage. A school, a kindergarten, and a boiler room were damaged. But the heating system has already been restored.
Local battles continue in Izyum following Muscovites' significant losses. Today, for example, two birds (airplanes) were shot down in the area. But it's impossible to bring in humanitarian aid and evacuate people, because there's no humanitarian corridor. The city is badly damaged. Many buildings are damaged or destroyed, some of them completely demolished. Videos of corpses lying on the streets have surfaced… What horror!
In Russist-occupied Vovchansk, in the Kharkiv region, humanitarian aid is being handed out to those who have a Ukrainian passport and are willing to sign their name. Meanwhile, posters started to appear around the city, calling in Russian not to take aid from the Muscovites, saying that Vochansk is Ukraine, and telling the Russian scum to go home for good. Invisible patriots are mounting a resistance!
The Muscovites have also fired upon Stary Saltiv, which they de facto control. The secretary of the village council, Halyna Kursachova, was killed while trying to reach a shelter during the shelling. Two other people were injured.
In Enerhodar, a red flag, apparently meant to be a replica of the "victory" flag, was hung on one of the flagpoles. Invisible patriots ripped off the rag and burned it to hell. Aren't we decommunizing?!?
The Muscovites have spread information that something landed in the villages in the Belgorod region, where a state of emergency has been declared. This is yet another Muscovite provocation, which the military command and the leadership of the Kharkiv regional military administration have warned about. Let them invent something better than such banal things.
Today's Darwin Award goes to Dima Peskov, who said on CNN that the Muscovites launched a special operation to destroy Moscovia. "What? Russia?" asked the host to clarify. "All of Russia, in its entirety," Peskov answered. This is magical!!
We thank the military for today and for these four weeks of resistance against the Muscovites. Let us support volunteers, doctors, rescuers, and public utility workers. Let us help each other, especially psychologically and in conversations. Our victory is close!