By Serhiy Petrov
Today marks a full month of the full-scale invasion of my beloved Kharkiv. I know that many western military people thought that Kharkiv didn't stand a chance, and that it wouldn't hold out for more than a few hours. But Kharkiv has been keeping up its defense for a whole month! I remember very well how I was woken up at five in the morning by powerful explosions (despite my deep slumber), how I looked out the window and saw the horizon on fire. I had gone to bed with a heavy heart: I knew that airports from Kharkiv to Dnipro were being blocked to prevent landing operations, and that moscovia had declared a no-fly zone along its border with Ukraine. After a few seconds it dawned on me that this was artillery preparation, and that a large war had started… I checked the news and my conclusion was confirmed. It's amazing that a whole month has passed but I still remember the work and personal plans I had made for February 24. There's no sense in remembering those things now, unfortunately, other than as a reminder of a peaceful life before February 24.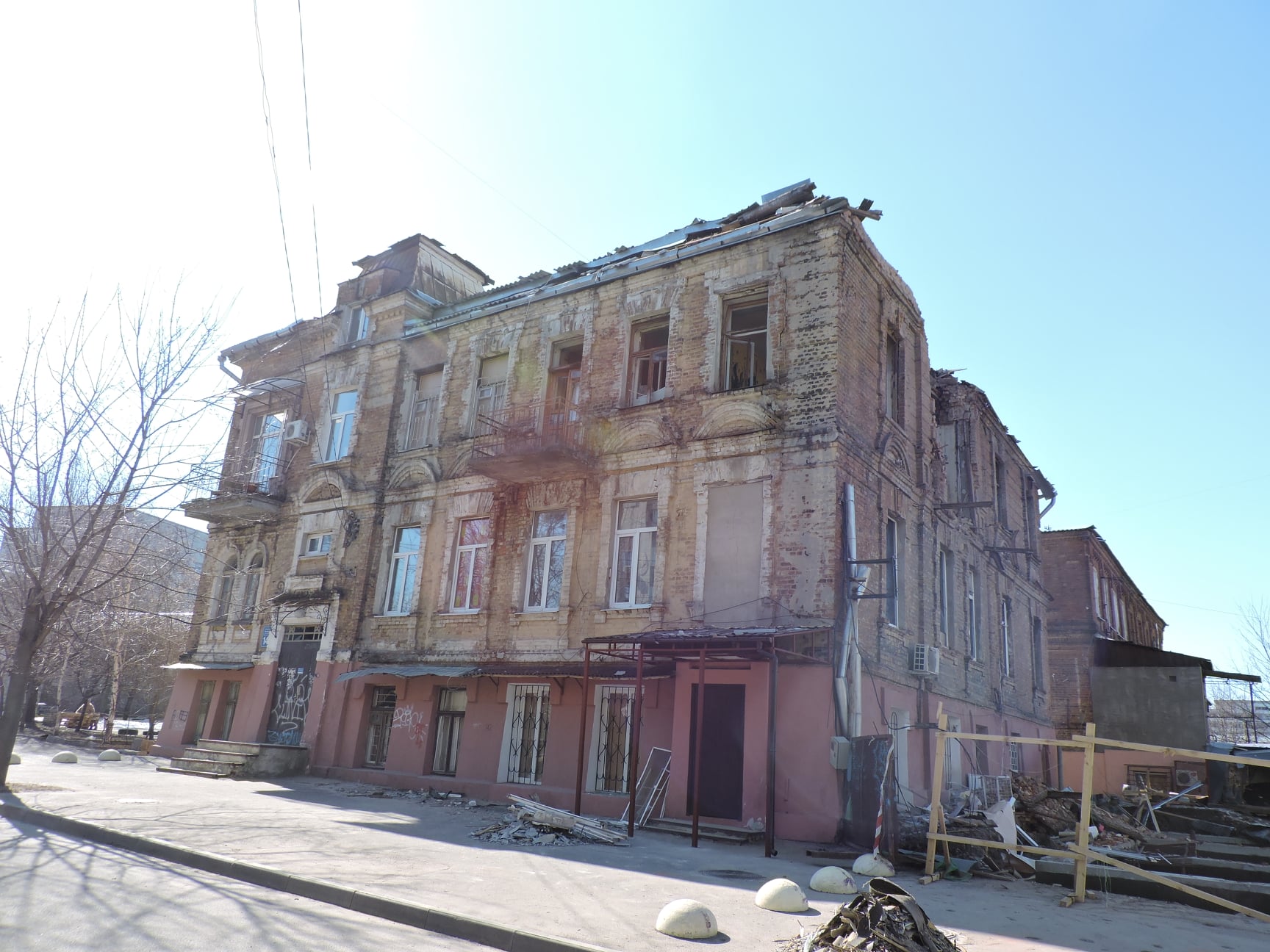 It's been exactly a month since I started writing these chronicles of the attack on Kharkiv. I mostly started writing them for friends from other cities, to let them know that the city is holding up and that we won't give it to the russists—under any circumstances, no matter what anybody may have thought of Kharkiv before the war—with descriptions of my own emotions and worries. But after a few days, when I heard from a friend who doesn't live in Ukraine about the impressions my chronicles had made on strangers, that they were a rare bit of information about the real Kharkiv, not the Kharkiv described in official reports, that's when the circle closed (in a bizarre way), and the chronicles became something bigger for me and, as I understand, for my readers. Several days later the chronicles were being translated to English and subsequently also to other languages thanks to a team of wonderful volunteers (I don't even know them all). Now the chronicles are being published in English, Polish, and German on the site Maidan. (A special thank you to the coordinators of this process: Marcin Żmudzki, Sonia Kagna, Oksana Yatsyuk, and Ihor Kiyanchuk.) I cannot even describe how grateful I am to the entire volunteer team! You are unsurpassed!
During this month I lost my home and after having become displaced in Kharkiv I continued fighting with Moscovia in my own way (I promise I will tell the story soon). I've lived through several shellings, when bombs landed close to where I was; I've seen many destroyed buildings and homes—destroyed by a war of destinies. I advised many friends and acquaintances that they should leave—those who either couldn't handle this situation or for whom staying wasn't worth it—and those people listened, both to themselves and to me. I'm happy that they're safe now.
Today was louder than yesterday. The nighttime explosion I have written about was caused by yet another "Kalibr," launched from the waters of the Black Sea, which landed in the center of the city. Luckily, the rocket didn't explode and the damage was relatively minimal. For obvious reasons, I won't get into details. But the public utility workers in this instance showed themselves operating at the level of GodI
The nighttime and morning were relatively loud. It was quiet in the daytime, but in the evening the muscovites got active again. North Saltivka was hit, as well as other parts of Saltivka, Obriy, Sonyachnyi, Rohan, the Kharkiv Tractor Plant neighborhood, Selyshche Zhukovskoho, Oleksiyivka, and the neighborhood of Shevchenky (named after a village that was once there).
Staying true to themselves, the muscovites shot rockets out of "Uragans" at a line of people who were queued to receive humanitarian aid at one of the locations of the regional center of logistics on the Akademic Pavlov Street. A nearby area with low-rise private homes was also hit, all the way to the Vorobyovi Gory condominium complex. (Symbolic, isn't it? That's the name of one of "moskva's" neighborhoods.) Six people died and about 15 were wounded. This is deliberate killing of people, a war crime that's difficult to describe in human language, perhaps only using curse words. They want to eliminate us, all of us. It's the only way to conquer the city. But instead of panic, this instills anger in the people of Kharkiv—a cruel anger—because their homes are being destroyed; because they themselves, their friends, and their relatives are being killed. It makes them feel the necessity of justice and punishment of the killers.
The russists also fired upon the World War II memorial in Lisopark, breaking the tiles and slightly breaking the base of the stelae and the sculptures. The "Liberators" are erasing the memory of the "grandfathers."
Fighting continues in Izyum. Muscovites shelled Mount Kremyanets. The World War II memorial located on the mountain has been ruthlessly destroyed. Right, for "grandfathers" and without "grandfathers." [Translator's note: this is a reference to the "respect" for the grandfathers who fought in WWII that Russians often mention.] They say cafe Seven Winds, a favorite meeting place for all volunteers and truckers, has unfortunately been destroyed. The muscovites will definitely pay for it—at a minimum with their lives!
The humanitarian situation in Izyum is complicated. The city is in fact under siege and under fire, and it's impossible to evacuate people or deliver humanitarian aid. There were at least 30 people under the rubble of one of the buildings, but clearing these wreckages is out of the question. It is unknown whether the people are alive, and there is no way to help them at the moment. Yes, Izyum is the second Mariupol. They are destroying Izyum—in its entirety…
Today, Muscovites also fired upon the village of Zolochiv, where more than 30 houses were destroyed and damaged along with the hospital, the cultural center, a music school, kindergartens, and secondary schools. No-one was injured because people hid in basements. Derhachi was also shelled. There, the russists fired upon residential neighborhoods and the hospital. An ambulance came under fire, and the gas pipeline was damaged, so Derhachi is once again without gas. A portion of the villages of Derhachi community is occupied, and the Muscovites do not allow residents to go to Derhachi while flatly refusing to organize humanitarian corridors.
Funny, the mayor of Kupyansk, Gennadiy Matsegora, who handed the city over to the Muscovites, became a Gauleiter and lives there. He says the SSU (Security Service of Ukraine) has detained his daughter, who fucked off to Ivano-Frankivsk. He's even threatening Zelensky with God's wrath should something happen to the traitor's daughter. Shit, typical russist elite: they support the war while their kids are enjoying themselves in Europe and they still whine, "Why them?" If the Service of God did something, there were definitely reasons for it.
The Muscovites are forcibly deporting residents of the occupied territories of Ukraine to Moscovia, particularly from Mariupol and its suburbs, and Kharkiv and Luhansk areas, demanding that they agree to move to the northern or eastern parts of Moscovia and don't leave for two years. This is another war crime against the civilian population and citizens of Ukraine!
Today, our military launched a precise "Tochka U" attack in the port of Berdyansk, where there were several large landing ships with equipment and reinforcements for the Muscovites. One MLS (military landing ship) was sunk "in order to prevent the detonation of ammunition," although it was shaken several times by the explosions, as seen in the video. Who the fuck knows whether it was Orsk (according to the Ministry of Defense of Ukraine) or Saratov (according to Muscovite social networks)? What matters is that it was sunk. Or, it could be that both were sunk, as our media report. Two other large landing ships, which were damaged, immediately headed out of the port with dead and wounded Muscovite crew members on board. This is what good aim looks like, not what the russian scum have been demonstrating. Only 39% of their rockets (Kalibr, Escander, class X guided missiles, and so on) hit their targets (including residential areas), with the rest either shot down by our air defense systems or falling somewhere in the woods and in the fields.
Chornobaivka has got to be an enchanted place—Cossack sorcerers used to work their magic there, according to legends. We have a jubilee event today: something blew up nicely.
Kherson residents are mounting a resistance. They hoisted a new large flag at the City Council today. The old flag was faded and one of its ropes was broken. Once again they've proved that Kherson is Ukraine. The russists did not interfere with the protest action today. Respect to them!
Today's Darwin Award goes to the crew of a Muscovite helicopter that fired on its own troops in the village of Mala Rohan, near Kharkiv, where the Muscovites are based, and from where they fire upon the southeastern part of Kharkiv. There are losses of personnel and equipment. This friendly fire is a result of the pilots' focusing on shooting as quickly as possible and leaving to avoid being shot down. Once they see something down on the ground, they shoot and bail. They're really scared of our air defenses. I hope there are more incidents like this! Meanwhile, plans aren't even trying to fly over the city.
A difficult month has gone by. It demonstrated our indomitable spirit, great patriotism, and love for Ukraine. I do not know how long the hot phase of the war will last and when we will return our territories, but we have passed a turning point in this war and won a moral victory. I thank our military for defending Kharkiv, Izyum, Mariupol, Sumy, Chernihiv, Mykolaiv, Kyiv, and other cities, towns, and villages of Ukraine from the Muscovite occupiers! Thanks to them for another day! Eternal memory to all who gave their lives for our independence and freedom!
Let us help our glorious defenders, volunteers, doctors, rescuers, and public utility workers! Let us support each other morally and psychologically when we get tired of this stalemate. And we know that everything will definitely be, Ukraine! We will win!