by Marko Pinteric and Nataliya Zubar
May 19, 2022. Maribor, Slovenia. Kharkiv, Ukraine.
Two months ago, when Marko decided to buy helmets for his colleagues under the threat of Russian artillery, he thought that this should be a fairly simple task. After all, what distinguishes buying helmets from buying other goods? In the end, however, this turned out to be quite a long adventure!
After contacting helmet manufacturers, he received no response. Then he decided to change the strategy – when official channels fail, personal contacts usually take over. It took him about a month and a lot of help from his friend Maryna Krajnc, a Ukrainian living in Slovenia, to finally establish a direct communication channel with the source of the helmets.
Only later did he learn that not only are these products not in stock in the current situation, but that military-grade helmets are considered military equipment and their distribution is strictly controlled by the countries. This is the reason that, unfortunately, the method of purchase must be kept secret from the public.
The cost was jointly covered by the Maidan Monitoring Information Centre (MMIC) and the local Slovenian association "PP Pomagajmo", which collects and processes donations for Ukraine and is headed by Maryna. The one fortunate circumstance in the purchase of helmets within the European Union is that due to the Customs Union, the contents of vehicles are not controlled at the borders between countries, so the helmets can easily reach the Ukrainian borders.
After Marko brought the helmets home, Maryna contacted the local Ukrainian embassy, which agreed to provide transportation of the helmets to Ukraine along with other materials. The helmets were to be transported via Hungary, so there was a risk that Hungarian officials would make it difficult to export them, but the embassy staff dismissed this risk based on their previous experience.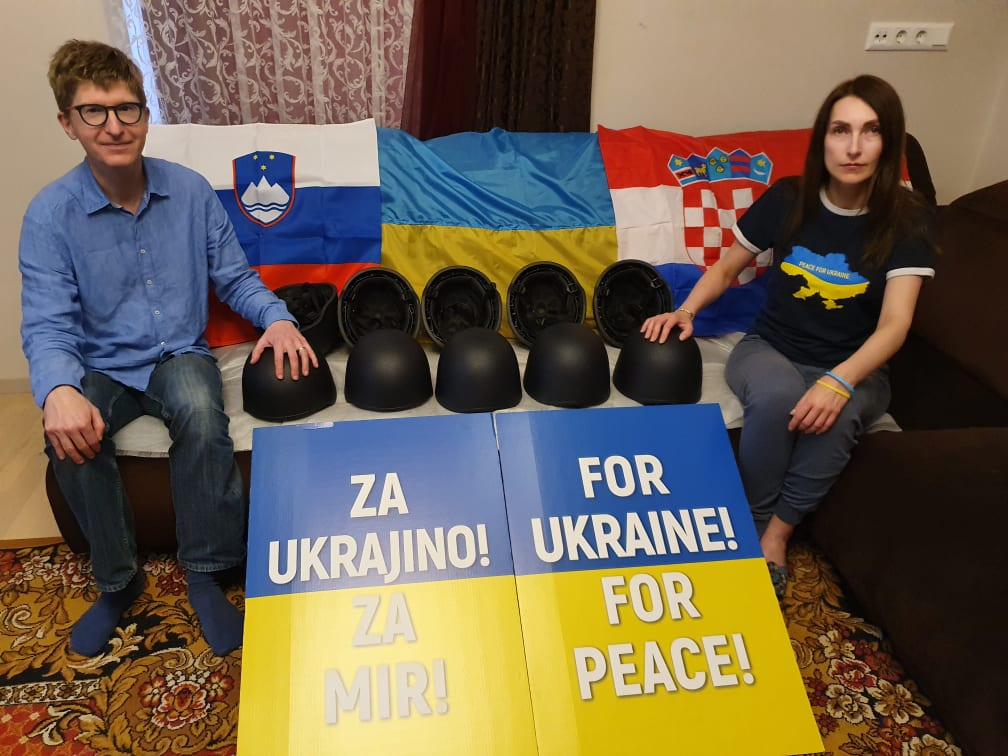 In fact, Hungarian officials controlled the contents by destroying the package, but they allowed the helmets to leave the European Union. When the helmets arrived safely in Ukraine, the transport from Uzhgorod to Kharkiv was supervised by a board member of MMIC, Oleksandr Shevchenko.
Two weeks after the start of the journey, the package with 10 helmets and two flags of Croatia and Slovenia reached its destination in Kharkiv. Since most MMIC members here had already got their helmets, we decided to share 8 helmets with civilian volunteers who provide humanitarian aid to people in the most war-affected areas of Kharkiv city and region.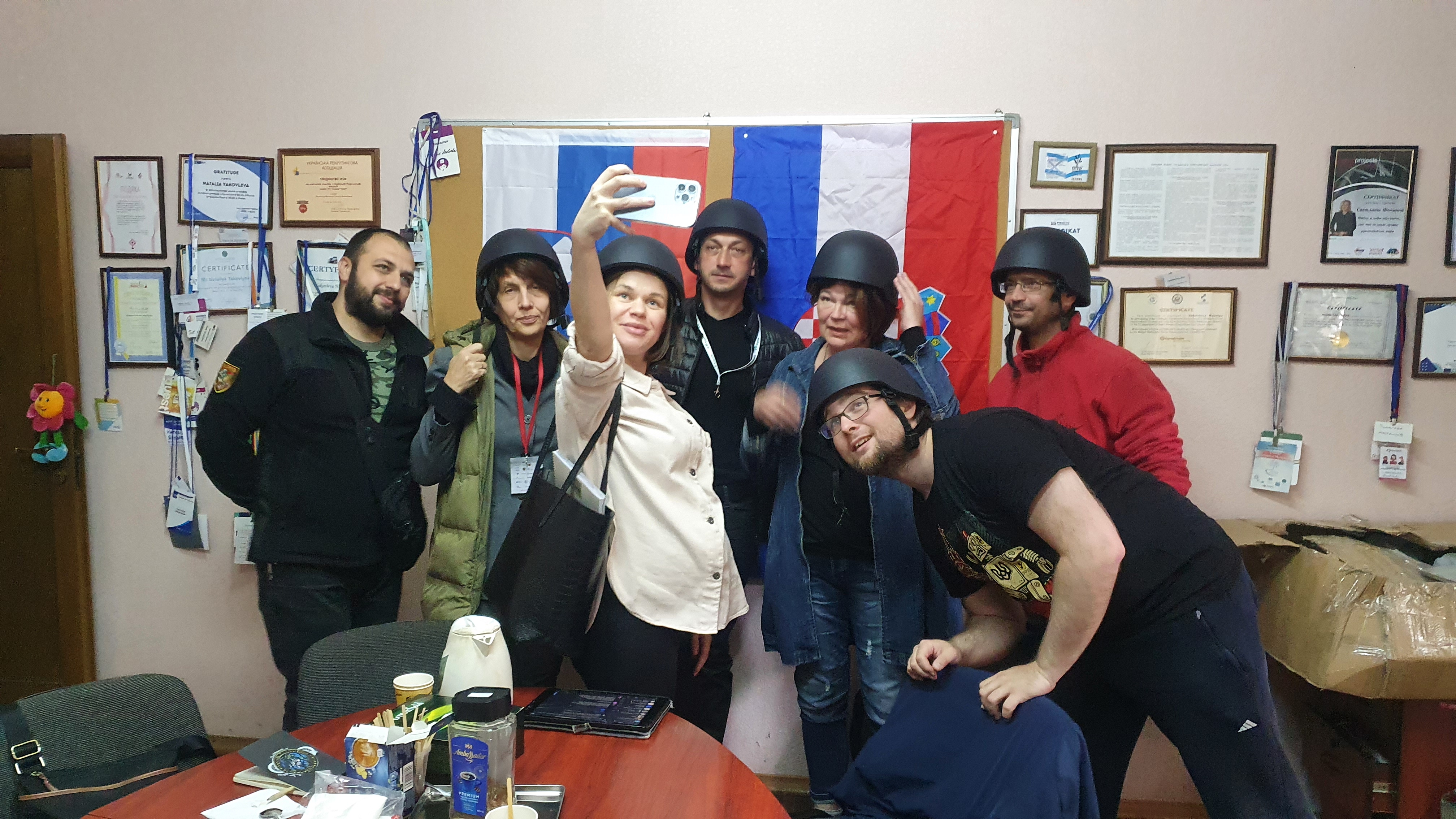 The photo was taken in Kharkiv on May 17, 2022 during the first meeting of a new coalition of charitable and civil society organizations discussing mutual aid protocols and improvement of logistics of humanitarian aid delivery to people in need.
The helmets still smell of the dark blue color. We chose this color to distinguish them from all other helmets we see around in Kharkiv.
Marko Pinterić is an associate professor at the University of Maribor, Slovenia, representing MMIC in Slovenia and Croatia. He has published a book "Building physics – From physical principles to international standards", which has already been translated into Chinese. He has waived his royalties for a (possible) Ukrainian language translation which should be very helpful for the upcoming rebuilding projects in Ukraine. Read his insightful articles here https://maidan.org.ua/en/author/marko/
Nataliya Zubar is a security expert and a MMIC chair located in Kharkiv, Ukraine.
See our one minute video with all the people mentioned