By Serhiy Petrov
Today was a very loud day. The amount of shelling grew significantly. Additionally, at night the city was shelled with munitions containing delayed-detonation mines.
There was a lot of muscovite shelling today. Yesterday was a day off of sorts, a relatively calm day (although, not quite, to be honest). The amount of shelling grew continuously throughout the day and into the evening. The russists fired upon various districts of Saltivka, Velyka Danylivka, Oleksiyivka, and Pavlove Pole. Also Pyatykhatky, Selyshche Zhukovskoho, Nemyshlya, Obriy, Rohan, the Kharkiv Tractor Plant neighborhood, Novi Budynky, Lysa Hora, and Kholodna Hora.
The geography of the neighborhoods shelled today was probably the widest so far during the entire period of the occupiers' attempts to capture the city. One person was killed and 13 injured during shelling in a relatively quiet area of ​​Saltivka. In another district of Kharkiv, a child was killed and two other children injured.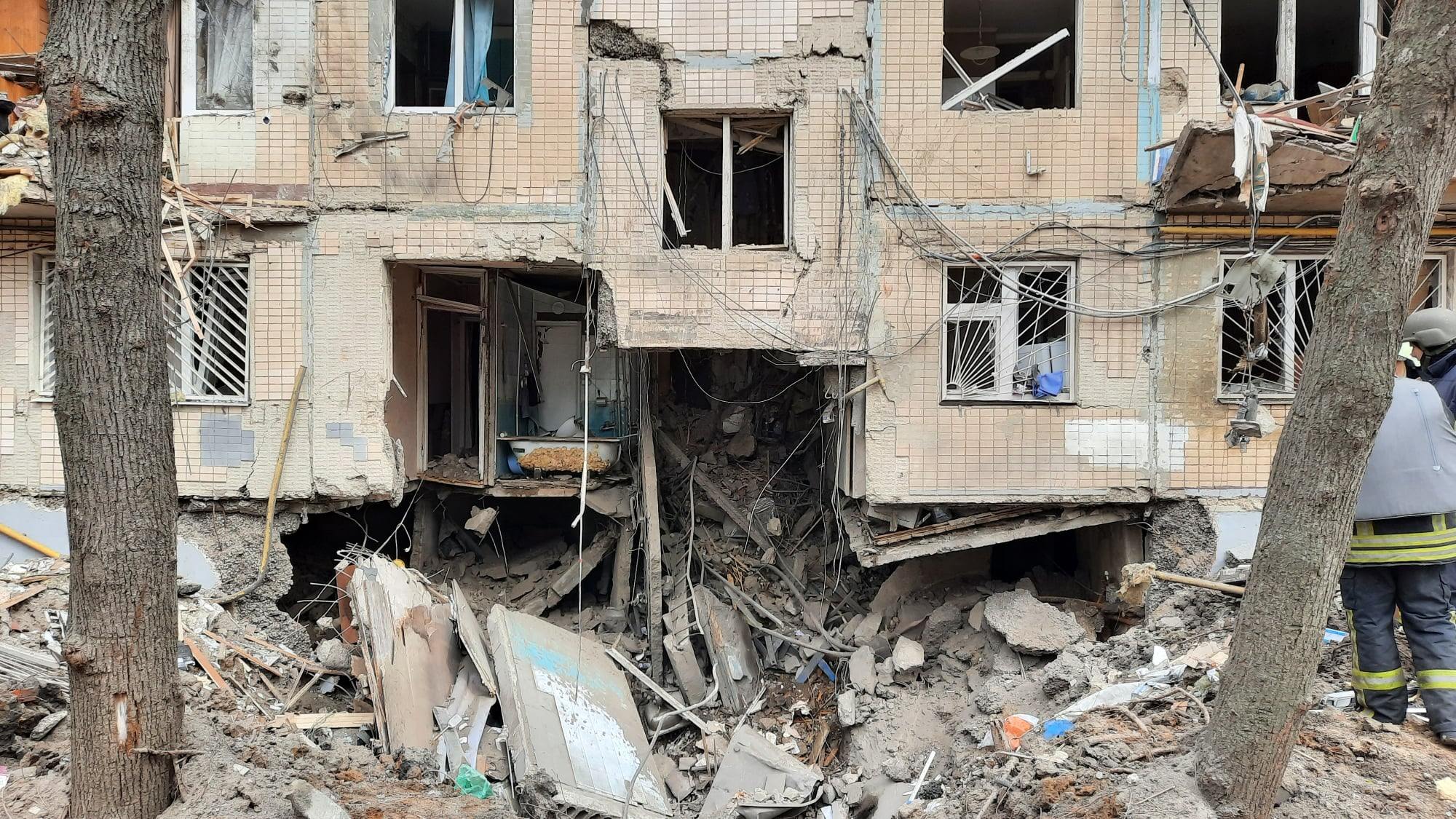 At night, the northern outskirts of the city and the Kharkiv Tractor Plant neighborhood were fired upon by Uragan systems with shells filled with mines of either delayed detonation or detonation triggered by movement or metal. Throughout the day, bomb technicians were clearing the muscovite "presents" from these areas of the city. Residents were banned from going outside and literally driven back to their houses to protect their lives. Mines were found near houses, on playgrounds, on roofs and in attics. More than 80 mines were cleared during the day.
The suburbs were also shelled: Derhachi and settlements of the hromada (similar to municipality) were hit, as well as the Chuhuiv area. Eight people were killed and 19 (including two children) were injured as a result of shelling in the region excluding the occupied territories, according to officials.
Starting tomorrow, traffic lights will be switched on on some of the main streets and intersections of Kharkiv. One group will be switched on tomorrow and another by the end of the week. The traffic lights will work from 8 am to 7 pm. Unfortunately, the growing traffic makes this a necessity. It became apparent after more than 1.5 months without traffic lights and traffic rules being ignored. Regrettably, there were quite a few car accidents.
There is anxiety in the city due to reports from the General Staff (of the Armed Forces of Ukraine) about a possible attack on Kharkiv and some panic spreading in the local social networks. I suspect there will be another wave of people leaving the city tomorrow, especially following the shelling by mine-filled cluster munitions. This is normal. Those who aren't involved in the defense of the city, volunteering, critical infrastructure, or trade can leave. This is your choice. It's also advisable to leave the zone of potential combat and large-scale damage by shelling, as well as the northern suburbs, which our military controls. I'm not trying to sow panic. I say it like it is, because the most important thing is security; the main strategy is to survive. When things got dangerous in my neighborhood, I left.
The regional authorities are reassuring us there are no grounds for mass evacuation from Kharkiv.
The general mood among many Kharkiv residents is such that they will stay and hang on. At the end of the day, even if the city is left with more or less one third of the population it had in mid-February, it'll be fine.
It's an interesting experience for a civilian documenting a site (another building damaged by shelling) to hear something flying over your head. It's good when it's a miss. A few days ago we went to a site to document an old hit, but in the space of one or two hours before our arrival, two fresh ones landed in the area. And there we were, working while the shelling continued: we heard a shell flying by and then an explosion—fairly close to us. But you have to work and work quickly while capturing all the details. Although the nerves, I confess, get difficult to handle. No, it's not heroism. It is simply a contribution to our victory over moscovia. Take firefighters, who extinguish fires and deal with their consequences in such conditions. That's truly heroic.
In the evening there was a thunderstorm in Kharkiv. Some have grown so unaccustomed to this phenomenon, that they cannot distinguish the sound of artillery fire from thunder. This is another thing Kharkiv residents now have to get used to.
There is little news in the broader region. Fighting continues in the Izyum area in the direction of Slovyansk; fighting continues in the direction to Barvinkove. There is little information, but so far there are no changes. Evacuation from Barvinkove ​​and Lozova continues.
It has been confirmed that last night our military struck a column of russist troops in the Kozacha Lopan area. Obviously, the number of personnel in the column wasn't 2,000, as some have suggested, but a lot of muscovite equipment was destroyed. They say it burned beautifully. It is unknown how many occupiers were killed and wounded, because they are physically impossible to count. Also in the region, heroes from the Armed Forces continue to shoot down occupier drones.
Fighting continues on the northern flank of the environmental protection zone. Fights continue for Rubizhne and Popasna; the occupiers are trying to storm Severodonetsk. In that area, the muscovites use phosphorus shells and bombs. On the southern flank of the Joint Forces Operation zone, the muscovites have not advanced toward Vuhledar and Velyka Novosilka in the Donetsk region. My advice to the residents of Kramatorsk, Slovyansk, Druzhkivka, Konstantynivka, and so on is to leave. You will save your lives and give more space to act to the Ukrainian military.
Despite everything, the Ukrainian military is fighting and maintaining a circular defense in Mariupol. The muscovites cannot take the Azovstal (metallurgical plant) district and tonight used some chemical weapons against the defenders of Mariupol. According to the Azov (Battalion), three fighters were injured.
Some are suggesting online that it could be sarin. This version is prompted by the fact that the new commander of the invasion forces in Ukraine, Dvornikov, is the well-known Butcher of Syria. Sarin gas was used on and affected many civilians under his command in Syria.
But what's important is that one of the representatives of the muscovite occupation administration of ORDO (Temporarily Occupied Territory of Ukraine), Basurin, said during a broadcast by one of the russist TV channels this afternoon that it was necessary to use chemical weapons to drive the Ukrainian military out of Azovstal's labyrinths.
Additionally, the use of an unknown gas that causes paralysis means that muscovites can use chemical weapons anywhere and anytime in the areas of hostilities. This is worth realizing: there isn't a single war crime moscovia won't commit in order to seize some city or territory. The presence of a civilian population is not important for the russists (it's secondary, or even tertiary); they only care about territory and their ability to control it—territory as an element of greatness and as a fetish.
Fun fact one. It has been documented that the muscovites attacked Kyiv using outdated maps relevant to 1985. Well, the explosion at the Chernobyl nuclear power plant hadn't yet happened at that time, of course, and there was no 30-kilometer zone. But this suggests at a minimum, a) they haven't studied history, b) commemorative acts to honor the victims of the Chernobyl accident are almost non-existent in moscovia (they are very local), and c) the main thing is territory, not security. But 1988 maps of the Kharkiv region are relevant. Pivnichna Saltivka, by the way, was just starting to be built out at that time.
Fun fact two. It turns out that a muscovite group in one of the districts of Mykolaivshchyna lived in a self-made hollow until the Armed Forces of Ukraine kicked them out of there. That was probably all their thick heads were capable of.
The areas of moscovia bordering Ukraine are restless. After yellow-level terrorist threat was announced in Belgorod and Kursk, Voronezh followed. There's generally high-level risk in Bryansk. RZD (Russian Railways) sent telegrams to the Rostov and Krasnodar regions about the need to take counter-sabotage measures. (What for? To protect against a rail war?). Muscovites themselves say that the Armed Forces intend to fire on residential areas of Belgorod and various facilities in the Crimea. I wonder when Voronezh will be bombed?
RZD became the second company from moscovia to default on debt obligations. Perhaps that is why counter-sabotage measures are being implemented. And the first  company that defaulted was "Severstal," at the end of March, symbolically. Currently, moscovia's credit rating has been lowered to "selective default." They have three weeks to find the currency to pay off foreign debt. Otherwise, the country's first default on foreign debt since 1917 will occur. The 1998 default was, as I recall, due to domestic obligations.
Today's Darwin Award goes to the Red Cross for delivering bottled water from Suceava (Romania) to Dnipro. This is this organization's largest special operation to help Ukraine. Apparently, after 40 days they concluded that the biggest problem in a combat zone is lack of drinking water. For the Red Cross, apparently, Dnipro is a combat zone. In fact, it's a safe place for these "heros" to go to, because they're too chickenshit to go to Kharkiv or Kramatorsk.
Sorry, but this organization needs to be liquidated due to uselessness. That's true at least for the Ukrainian branch, because they are total idiots!
Let us believe in and trust the Armed Forces! Let us support volunteers, doctors, public utility services, and rescuers. Let us look after each other. We only have one Ukraine!